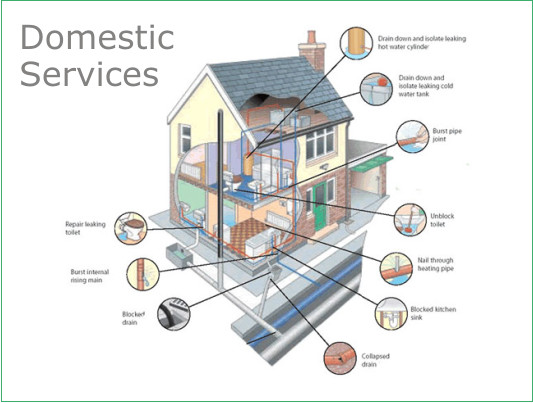 A must for every home owner, ESPECIALLY FLAT OWNERS is to know where the "Internal" stopcock is and make sure it works! Whether you are in a Flat or a House the Internal stopcock would be your immediate place to go if you have a mains hot/cold water leak.
If you cannot find an Internal stopcock, then you need to know where your "Pavement" stopcock is located and whether it works. Flat owners may have to turn everyone's water off?
Most new water meters have an easy to turn valve easily visible, but older pavement stopcocks mostly are just a "square nut" down a hole that may well be covered in mud/dirt and require a "Stopcock Key" or servicing by the local water company.
Common Leak Types and Remedies:
Cold water leak and have an Immersion tank (normally in an airing cupboard:
You will have a Tank in the loft which despite turning off a Stopcock will continue to leak until the tank is empty unless you have a "RED  WHEEL" Gate valve in the airing cupboard which can be turned off.
Hot water leak and have an immersion tank:
There should be a Gate valve – normally a "RED WHEEL" type within the airing cupboard on a cold pipe which goes into the BOTTOM of the immersion tank which can be turned off (No cold water going in means No hot water coming out)
Cold or hot water leak and you have a Combination Boiler (one that only turns on only when you want hot water or heating / no tank in a cupboard)
You will need to turn the main stopcock off either inside or pavement and also it's important to TURN off the boiler or the power to it! If it is Hot water it may possibly be the heating side and stop the boiler from working before you notice signs of a leak or you may notice a pressure dial that reads Zero or your boiler will refuse to work.